"7 Key Rights of Network Bulls' International Students" FB Live with Jenny (International Sales & Operations Head)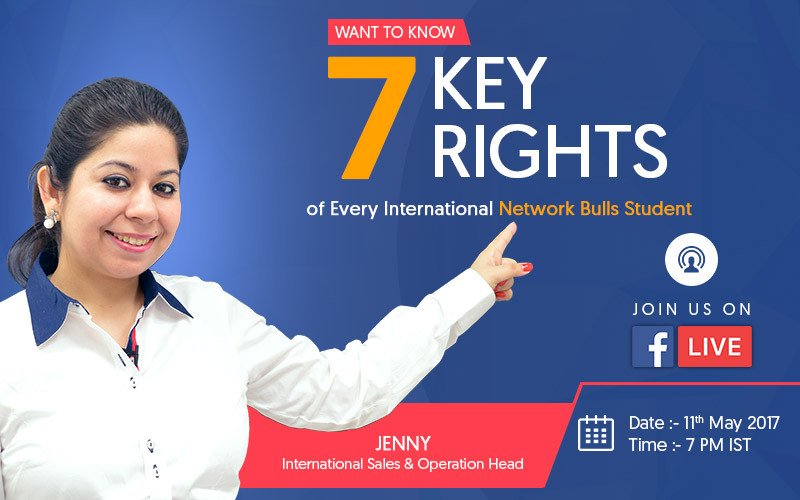 By
Network Bulls
Network Bulls has been a trusted name in Cisco CCNA, CCNP & CCIE Training all around the globe. Students from 40+ Countries have studied and got certified from here in last 7 years. USA, UK, Nigeria, UAE, South Africa, Ghana, Congo, Cameroon, Australia, Malaysia are the few countries from where we have got our most of the students.
Coming to India for Cisco CCNA, CCNP, CCIE Training is always a big decision for international students but Network Bulls' world class training, infrastructure, and services have always made students' experience enjoyable.   
Since a student enrolls for course with Network Bulls, he or she becomes part of NB Family and is taken care like a family member. Our support staff, operations team, Career counseling team and each employee of NB works to make your learning experience fruitful.
Now this means all international students since enrolling at NB get certain rights which they can access anytime. What are they?
Recommended read: Why More & More International Students Choosing Network Bulls for Cisco Trainings?
7 Key Rights of International Students @ Network Bulls
All international students have these rights and can access anytime, to let you know about them in details we have organized a FB Live event on this Thursday i.e. 11th May. More details below –
Agenda of the FB Live event - 7 Key Rights of International Students
Date & Time - 11th May 2017 | 7PM IST
If you are joining from following countries then check local times -
|  Country Name |  Local Time |
| --- | --- |
|  USA |  8.30 AM (EST) |
|  Nigeria |  2.30 PM  |
|  Cameroon |  2.30 PM  |
|  Angola |  2.30 PM  |
|  Ghana |  2.30 PM  |
|  Congo |  2.30 PM  |
|  Kenya |  2.30 PM  |
|  India |  7 PM  |
|  South Africa |  3.30 PM |
How to join this FB Live event?
It's damn easy, you just need to follow below mentioned easy steps. 
Step 1 - Login to your Facebook account & Like the Network Bulls Fan Page (if you have not liked it yet)
Here is the direct link of our official Fan page - https://www.facebook.com/networkbullsindia
Step 2 -  Be present on our Fan page through mobile or laptop or desktop, whichever device you prefer. You will also get a notification whenever we will start the event.
That's it. We will see you on 11th May, 7 PM (IST).
If you have any queries regarding the FB Live Session, feel free to write us an email on support@nb-emails.com, our team will get in touch with you shortly. 
Did you miss the session? Don't worry we have got your back. Here is the session's complete recording -

Download PDF
"7 Key Rights of Network Bulls' International Students" FB Live with Jenny (International Sales & Operations Head)